No matter what product or service you are exchanging your money for, it is always wise to be an informed consumer. While you may never know as much about an auto service contract as the provider offering it, you can prevent many issues that arise when shopping for, buying, and using such an agreement, simply by asking questions.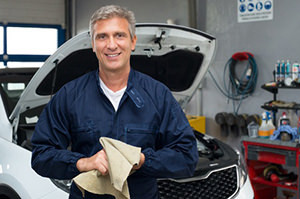 It may be best to start with understanding the difference between a warranty and an auto service contract. While they may appear to be the same, the truth is these two items have significant differences. When you purchase a new vehicle, for example, you will have a manufacturer's warranty that will cover your car for a set number of years or a specific number of miles. However, an auto service contract is an optional agreement that will pay for certain covered repairs based on the terms of the contract.
Contact us at 800-293-5048 or use our online form to learn more about vehicle protection plans and to find one that is right for you.
Auto Service Contracts: Understanding the Details
There are several details to consider when deciding whether an auto service contract is right for you. First and foremost, you should understand the terms of a contract including what is and isn't covered, the length of the contract, and any other limitations or requirements.
Here are a few key items to understand:
Know who is backing the service contract. Understand from the beginning who will do the repair work and who will pay for it. Is there a service contract administrator? If dealer or administrator goes out of business, what is the status of your agreement?
Know the costs. Make sure you know what your final cost will be for the auto service contract, including deductible. Does the deductible apply per repair or per visit?
Know what is covered. What does the auto service contract cover? These agreements are very specific about what is not covered and what is covered. Normal wear and tear may not be included.
Know your responsibilities. You may have to keep records showing you have followed the manufacturer's routine maintenance recommendations in order to keep the contract valid. Additionally, sometimes the auto service contract specifies that only the dealer who sold you the car is authorized to service the car.
Know if the contract is transferrable. If you have an auto service contract that is in force when decided to sell the vehicle, ask if the agreement can be transferred. This may help increase the value of your car to prospective buyers.
In addition to these important details, you should clearly understand where you need to take the vehicle to have work performed under the vehicle service contract. Do you have a choice? Can you have repairs made while on a trip? Is there a geographical limit to where you are covered?
One key financial item that many people fail to understand involves the actual exchange of money for repairs. Does the auto service contract provide for direct payment to dealer or repair shop? Do you have to pay and then wait for reimbursement? Keep in mind that a service contract can require you to perform regular, scheduled maintenance in order for the agreement to be valid. You should keep all receipts and other documents to prove this if necessary.
Learn More About Auto Service Contracts
The overall key to success with any auto service contract is to know what your responsibilities are and to understand what the dealer or repair shop responsibilities are. By being informed, you can make a wise investment and protect yourself from costly repair bills. Call 800-293-5048 or contact us online to learn more about our vehicle protection plans and which option is right for you.