Marathon Protector Elite Vehicle Protection Plan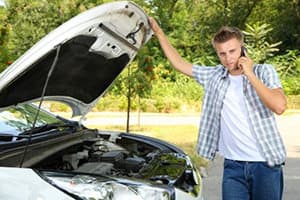 Even the best-maintained cars are subject to part failure and breakdowns that can leave you stranded with expensive repair bills. A vehicle protection plan is the only way to guarantee that you are protected against covered car repair costs.
The Marathon Protector Elite Vehicle Protection Plan offers a good level of protection for those looking to cover the cost of auto repair bills while also being an affordable option for families on a budget. Call us today and talk to one of our certified customer service experts to learn more about this Marathon vehicle protection plan and to find out if it is the right option for you.
Marathon's Good Vehicle Protection Plan Coverage
American Automotive Service Solutions has developed a three-tier system to pair our customers with the services that fit their needs and budget. The Marathon Protector Elite vehicle protection plan falls into our "good" category because it provides basic coverage, ideal for people driving older cars that need affordable coverage for some of the most important parts. Vehicle service contracts work best when they are tailored to your needs, and we hope the information provided below allows you to make the choice that is right for you.
Vehicle Protection Plan Engine Coverage
The Marathon Protector Elite plan covers all of the lubricated parts inside the engine as well as the cylinder head and cylinder block. This is a key detail to compare with other plans because it means all of the most essential parts of your car are covered. Other companies may be reluctant to offer this level of coverage at any tier because it covers some of the hardest worn parts in your car. However, because AASS expects the best for our customers, we require that every plan our administrators provide carry at least this level of total engine protection. It is just one more way a vehicle protection plan with us can save you money in the long run.
Additional Coverages
The Marathon Protector Elite plan also covers many additional of other components under the hood including the water pump, oil pump, timing belt, basic electrical systems, turbo or supercharger, air conditioning, and c/v lubricated parts. It is important to note this plan, and all plans, require that regular maintenance be performed as per the manual, and that all seals are covered only in conjunction with the failure of another covered part. Refer to your contract for specific coverage details.
Contact Us About the Marathon Protector Elite Vehicle Protection Plan
If you think that this vehicle protection plan may be the one for you, call us today to request a quote or to get answers to any of your questions about our vehicle protection plans. At American Automotive Service Solutions it is our priority to take care of our customers. This means more than just providing vehicle service contracts; it means caring for your needs and concerns every step of the way. Contact us today for more on this or any vehicle protection plan that we carry.
Our Mission
American Automotive Service Solutions is different than your typical auto warranty company. We are focused on a positive customer experience and long term satisfaction over the life of your vehicle service contract. Contact us today to get a quote on a vehicle protection plan that will give you peace of mind and the protection you desire.